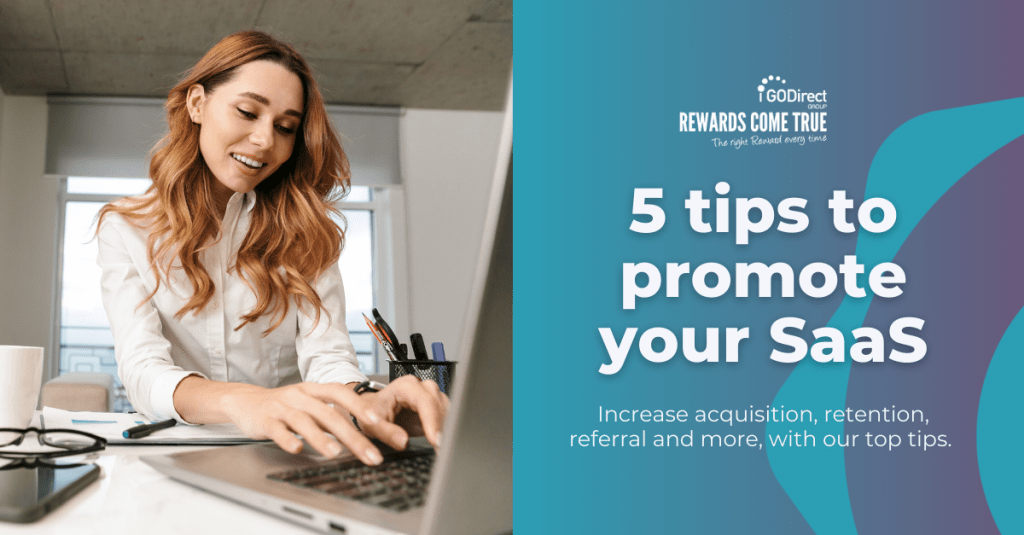 When successful, SaaS businesses create opportunities to drive repeatable and predictable revenues long term. However, the front-loaded expenses associated with developing the product, and finding an audience can be onerous. At a time when digital transformation is accelerating, capturing and converting more revenue per customer is crucial. Here, we explore how rewards and incentives can be used to influence acquisition, adoption, and retention strategies.
1. Customer acquisition campaigns
The lifeblood of any SaaS is customer acquisition. Getting new users to try, learn, and adopt your technology is a big ask – it requires them to change their business as usual and trust new, untested technology in the hope it will be a positive change.
To attract new customers businesses try a range of techniques. They will offer free trials, discounted subscriptions, lifetime deals for early adopters, vouchers, even cashbacks. Others will partner with affiliates or influencers to get their solution in front of new audiences. 
One of the cheapest and most effective ways of gaining new users is word-of-mouth. So what better way to drive uptake than to leverage your existing users. Incentivise existing users to invite their network with referral links that reward themselves and their recipients with gift cards.  
2. Customer retention promotions
Once you've gone through the expensive exercise of acquiring new customers, it's often cheaper to retain them than it is to acquire more new users.
Free trial periods are a great way of getting customers to try your platform, but how can you increase those that opt-in to an ongoing subscription? Likewise, how can you incentivise customers to renew their annual subscriptions? You might start by rewarding your customers.
Free trial customers can either be easier to acquire but harder to convert (no credit card required) or hard to acquire and easier to convert (credit card required). In either event, most SaaS businesses will offer either an extended free trial near the end, or a limited time discount within the trial period.
Free trial retention
In both scenarios, the transition from non-paying, to paying customers can be streamlined by offering a limited time once-off cashback in lieu of a discount, as a way of maintaining brand positioning, and price integrity. Often the cost-per-acquisition of a new client is high, but their lifetime value often means such a discount can be substantial enough to persuade wavering buyers.
Renewal subscriptions
Rewarding loyalty programs can help improve customer stickiness at every stage. This might take the form of a sign-on cashback or gift card once they enter their first paid subscription, and potentially build at subsequent subscriptions based on their consumption profile.
Such an incentive can act as a tie-breaker when customers are deciding between SaaS solutions. Further, it can be customised to your branding, and delivered digitally or physically, to ensure your brand is associated with their guilt-free purchases.
Better still, why not build this type of digital reward into your subscription workflows? As a new customer signs on, or an existing customer renews, use your automation technology to distribute the appropriate reward in real-time. True Rewards offers custom branded rewarding experiences which can be delivered via an easy plug-and-play API widget.
3. Social Media Promotions for SaaS
With everything going digital, customers are seeking services online, especially via social media platforms. Why not seize this opportunity to promote your services?
Conducting giveaways on social media accounts has been widely implemented by all sectors of businesses. By using social media to promote a giveaway, businesses benefit from the potential network effect of those that enter encouraging their own networks to also enter.
To ensure your giveaways are effective and create a buzz online:
Create a simple branded landing page that explains the promotion and how to enter.
Use a platform that enables multiple entries for completing specific tasks, such as sharing, liking, commenting, forwarding, and other means of promoting your campaign.
Capture the data you need to qualify them as potential leads within the landing page form, at a minimum email, name, phone, and company/job role.
Use branded hashtags on social media to enable discovery from new entrants.
Continue to market to landing page visitors via email, social media, and retargeting.
If they've not become customers, consider using an incentive, such as a gift card, to lure them to your SaaS.
Consider adopting regular, seasonal promotions that reflect wehn your customers would be considering your solution.
4. Increasing share-of-wallet
Motivating your customers to test new products, or adopt additional products and services can be the surest and quickest path to additional revenue. This might involve offering promo codes to remove the financial risk out of being a beta user. Likewise, lifetime deal sites are often used by SaaS businesses to increase their user bases by offering a one-off price for life. Users like it because it gets them access to tools they need cheaply, and SaaS businesses like it because they can learn and grow more rapidly with an existing, sticky user base.
A similar approach can be used to upsell into other parts of your portfolio. Offering a cashback on a product upgrade, or bolt-on subscription products and services can reduce the friction between a user being interested, and taking action. This temporarily reduces the cost for the user but can be made up if your business is able to retain them on that service ongoing.
5. Custom SaaS promotions 
As part of the iGo group, Rewards Come True and True Rewards support businesses to build, monitor, and deliver ground-breaking promotions and gift rewards to their customers. Our end-to-end platforms gather real-time analytics when a promotion is up and running so you can monitor progress and make adjustments as needed.
Kickstart your promotions. It is never too late to start rewarding your customers with a custom branded promotion, or gift card, that builds your brand equity, and improves customer retention. Talk to an expert on 1800 043 656 to decide if these solutions are a good fit for your SaaS business.