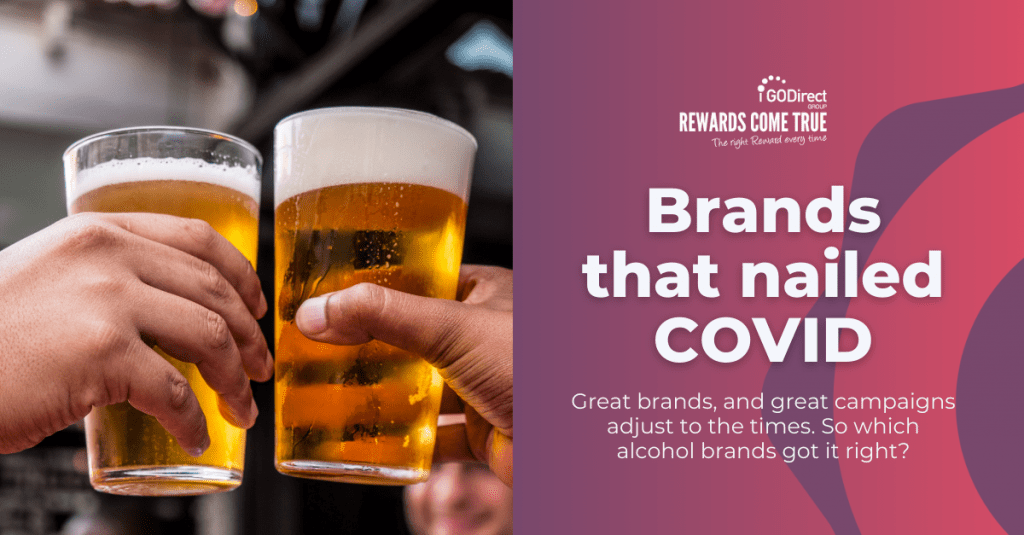 From the iconic 'hard-earned thirst' slogan used by Victoria Bitter to the memorable 'It's a big ad' used by Carlton Draught, alcohol brands have long been creative, bold and visionary in their marketing campaigns.
That has been heightened during the global COVID-19 pandemic, with brands forced to rethink their marketing and sales incentives to target consumers stuck at home in lockdown and unable to go to licenced venues.
A report released in May 2020 (at the height of the pandemic and lockdowns in Australia) highlighted the marketing tactics being used by alcohol companies to reach consumers stuck at home. The report titled An alcohol ad every 35 seconds showed that consumers saw 107 sponsored alcohol advertisements during a one-hour block on a Friday night across Facebook and Instagram.
Because COVID had changed our lives so dramatically, a shift in marketing strategies was required as well. A new range of promotions tapped into Australia's long history of successful alcohol campaigns.
Alcohol's Marketing Strategy is Working
Data from research company YouGov showed that 20% of Australians admitted to purchasing more alcohol during the pandemic. Of those that purchased more, 70% said they were drinking more than normal times, and a third said they were drinking at least once a day.
Jacob's Creek was a shining example of alcohol brands providing value to their consumers in a bid to increase sales. The winemakers launched an advertising campaign that urged consumers to use their time at home to become wine experts.
"Social distancing? There's never been a better time to become a wine connoisseur. Before we give you our tips on how to do a Music and Wine Tasting Experience at home, learn how to taste wine," they posted along with tips on how to appreciate and understand the drop they were drinking.
Finding the humour during a pandemic
The use of humour is a very effective way for alcohol brands to connect with consumers and promote their products. Humour can be used to make people feel more comfortable about the product being advertised, which makes it easier for them to remember the brand name and purchase it when they see it again.
Because of the unique circumstances, it meant that new standards were being set by industry heavyweights. In some instances, alcohol brands pushed the boundaries too far.
An example was a Thirsty Camel liquor store in Western Australia that posted an image of a shopping trolley loaded with bottles of wine, with the caption: 'People: *stocking up on toilet paper and water*' and then 'me:' captioned above the cart full of wine.
Source: DrinkTank
This was found to breach the Alcohol Beverages Advertising Code (ABAC) alcohol advertising regulations because it made light of excess alcohol consumption at home during lockdown, isolation or quarantine.
University of the Sunshine Coast marketing and advertising expert Kelly Choong said leveraging current trends and topics were common. Many alcohol brands and businesses were simply using these strategies to survive during challenging circumstances.
"In times of desperation, you might find some companies or brands will push the line as they try to find ways to survive," he said.
Connecting with customers
While it has proved tempting for some brands to promote excess, for other's it's been an opportunity to assert their values, and to connect with their customers.
Brisbane Distillery Company, a boutique company that specialises in quality local spirits with a heavy focus on gin, provided one of the leading examples of this solidarity. Unable to open their doors for regular business, the company elected to use their products to create hand sanitiser for health care workers and consumers.
At the time, hand sanitiser was in short supply. It was a way Brisbane Distillery Company could improve their standing in the community and build strong customer relations that would benefit them in the long run.
Similarly, six of Lion's beer brands took out full-page newspaper ads to encourage their customers to stay home, so they could enjoy a beer with their friends in the future.
Alcohol brands pitch their health credentials
For as long as there has been alcohol there have been two sides to the coin. Alcohol unites strangers, removes inhibitions and brings people together. But it's also been mired by associations to binge drinking and anti-social behaviour
Keen to overcome this, and to cater to an emerging "sober curious" market there are now plenty of alcoholic beverages that tout their low-calorie count, gluten-free ingredients, or organic production methods.
And this shift isn't just happening among small craft brewers either – big names like Budweiser and Stella Artois have also joined the movement by highlighting certain aspects of their products that make them healthier than other types of beer out there today.
Low/no alcohol growth and premiumisation trends
Alcohol brands are looking to capitalise on the dual trends of low/no alcohol drink growth and the premiumisation of home consumption during COVID lockdowns.
The two trends have been driven by several factors, including health concerns, changing consumer preferences and lifestyle choices. As a result, consumers are drinking less, but they want to enjoy quality drinks when they consume them. This has led to an increase in demand for high-quality products that can be consumed at home, including an appetite for indigenous botanicals.
Vinomofo is one brand that has delivered a VIP experience to its consumers to significant effect. In addition, the company launched a range of initiatives during COVID, including a lucky dip where consumers had a chance at winning a $700 1995 Penfolds Grange.
On top of this, they also ran a campaign called Random Acts of Kindness that encouraged consumers to purchase a premium product as a gift for someone that might be struggling in lockdown. The result? Sales increases between 50-70% across their range.
From humour to solidarity, health-focused branding and capitalising on two trends – low/no alcohol drink growth and premiumisation of home consumption – brands have taken different approaches to suit their audience in this challenging time. And as a result, we have seen more memorable campaigns that will be remembered for a long time to come.
Are looking for a way to improve your customer relations and foster more loyalty from your consumers? Contact Rewards Come True on 1800 043 656.